This is just a short post about my friends and my hatsumoude, or first shrine visit of the year.  A bunch of people from the dorm including myself went down to a temple called Koushou-ji. There were quite a lot of people and food vendors and stuff which was nice, but since hatsumoude is supposed to be to a shrine not a temple, we set off on what would become a rather long journey to find a nice shrine to pray at. We eventually found one and there was no one there, so it was quite peaceful.
初詣のついての短い更新です。寮に住んでいた友達と近くの興正寺に行きました。食べ物がたくさんあったけど、もちろん、興正寺は寺なので、それから祈れる神社を見つけるために長旅しちゃいました。やっとの思い出、誰もいなくて静かなのを見つけました。
I wore my blue wool kimono with black accessories and I wore my awesome new haori that my friend's hostdad bought me. The crests are nami-chidori and the lining has ume with a nightingale.
青いウールの着物を着て、黒いアクセサリーを使って、友達のホストファザーが買って下さった羽織を着ました。家紋は波千鳥で、羽裏に梅と鶯が染まりました。
at Koushou-ji 興正寺で
the new haori  新しい羽織
at the small shrine 見つけた神社で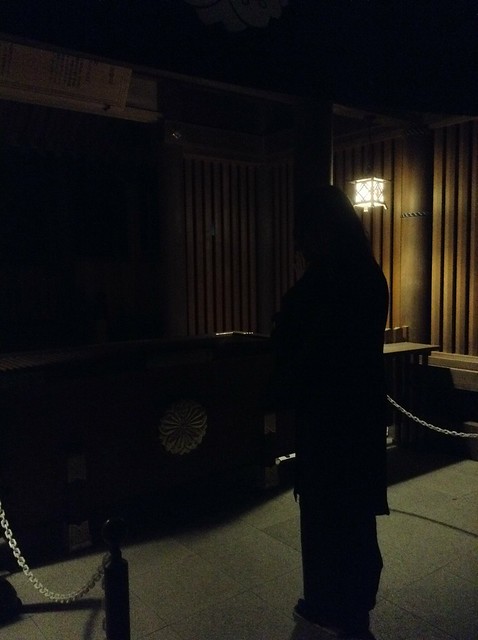 and then this was the view of Nagoya from the hill 坂からの景色
On New Years Day, we went to Atsuta Jingu, a very famous shrine, but there were a ton of people, so we just made our round and left. お正月に熱田神宮に行ったけど、人が多すぎたから、見回して出ました。
the line to go pray at the shrine 祈りに来た人々